You have probably heard this many times before, however it is so important that I'm going to repeat it again: The first step to a healthy immune system and healing any aliment is nutrition. Try and stick to the right ratios of nutrient dense organic veggies, pastured raised (or better yet, wild harvested) meat and healthy fats. Cook more and eat out less!
If you are sick or starting to feel sick, the goal is to stay away from anything that will cause internal inflammation.  Some common foods that cause inflammation are: sugar, fried foods, all grains, and all processed foods.  If you absolutely cannot avoid the craving for sweets, keep a few sugar free options on hand from the health store.   I'm a self confessed chocoholic, and I highly recommend the lily's brand chocolate bars, they are sugar free but do not use chemical sweetener alternatives, and I promise they taste just like normal chocolate! (bars below)
If you are frequently sick, or when you get sick it is always a rough recovery, you may want to take a step back and ask
yourself why?  What is your diet like?  What environment are you living or working in?  Are you active?  Much of the country is in need a whole lifestyle change to prevent heading down a long miserable path of serious health problems.
Anyway, onto what you can do to boost your immune system, prevent an illness and help aid and heal yourself faster!
Disclaimer – I am not a doctor or posing as one here, and this information does not substitute for seeking out a doctor to assist with your medical needs.  Below information was gathered from various sources, books, and otherwise and is shared for educational purposes only.
Natural antibiotics
Nano (small particle) Colloidal silver- You can buy Colloidal silver at the health food store. This stuff is a staple in our house.  Check out the link here on many of the benefits:  https://draxe.com/colloidal-silver-benefits/
Fire Cider- A DIY tonic you make (recipe at the bottom of this post).  When taken internally, it will boost your immune system, help maintain good digestion, fight candida, boost your metabolism, increase circulation and can give the body a warming sensation.
Garlic- Before the use of pharmaceutical antibiotics became all the rage post World War II, garlic was regularly used to treat infections and wounds.  This herb is one of the oldest recorded remedies used by many ancient civilizations.  It is specifically named in ancient texts of the Greeks, Hebrews, Babylonians, Romans and Egyptians.  Note that pharmaceutical antibiotics only work for bacterial infections.  Garlic, however, helps resolve an illness no matter what type of microbes are causing the problem – bacteria, virus, or fungus!  When used therapeutically to heal a bacterial infection or viral illness, Dr. Campbell-McBride recommends consuming an entire head of garlic every day throughout the day until healing has occurred. Take a clove every few hours.  What we do in our family is mince it up, toss a batch on the back of the tongue, and swallow with water just like a normal pill.  If it seems to upset your stomach, you can use the Garlic Honey recipe at the bottom of this page to tone it down.
Oregano oil- Another natural antibiotic
Manuka honey- Packed full of nutrients to support your immune system, Manuka Honey, made from bees who exclusively gather from the Manuka flower, is a great natural remedy.   Honey has been used for medicinal purposes dating back thousands of years, and is particularly helpful for sore throats as it has the added benefit of soothing the throat.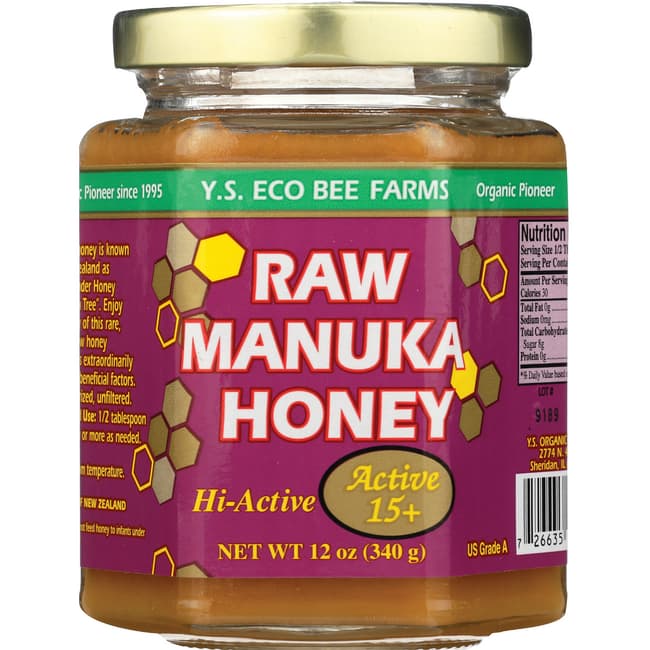 Regular raw honey is already known for its tremendous nutritional and immune boosting abilities. Generally speaking, the typical raw unfiltered honey is a rich source of:
Amino acids
B vitamins (B6, thiamin, niacin, riboflavin, pantothenic acid)
Calcium

Copper
Iron
Magnesium
Manganese
Phosphorus
Potassium
Sodium
Zinc
Yet with Manuka honey, the nutritional content is up to 4 times that of normal flower honeys.
For more information check out https://draxe.com/manuka-honey-benefits-uses/
Herbs for teas, tinctures and syrups.

Herbs can be collected in the wild, grown in the garden or purchased at a health food store.  Some of these come in essential oil form for an even stronger punch. Keep in mind herbs are not conventional drugs and are not fast acting.  It can take some time to see benefits, but studies have shown that herbs do help reduce symptoms, prevent future illness, and for some long term illnesses cut down the time to recovery.  Books I recommend to learn more about herbs and recipes are:
https://www.amazon.com/Rosemary-Gladstars-Medicinal-Herbs-Beginners/dp/1612120059/ref=sr_1_1?ie=UTF8&qid=1510425193&sr=8-1&keywords=rosemary+gladstar
https://www.amazon.com/Rosemary-Gladstars-Herbal-Recipes-Vibrant/dp/1603420789/ref=sr_1_3?ie=UTF8&qid=1510425193&sr=8-3&keywords=rosemary+gladstar
https://www.amazon.com/Alchemy-Herbs-Transform-Everyday-Ingredients/dp/140195006X/ref=sr_1_1?ie=UTF8&qid=1510425198&sr=8-1&keywords=alchemy+of+herbs
Mature Mullein plant in bloom
Echinacea- improves skin problems, improves mental health, relieves upper respiratory issues, fights infection, anti-inflammatory, alleviates pain, boosts your immune, combats cancer.  Studies have shown this to cut duration of a cold by a couple of days and lessen the affects.  Use in tincture or tea form.
Mullein- My favorite weed!  Mullein flowers make the best oil for ear infections. The fuzzy leaves have been used for centuries for coughs, respiratory and bronchial infections and asthma. Just font pick them off the road. You never know what was sprayed or what is thrown out of cars, etc. go off the beaten path.
Marsh Mallow– Great for soothing sore throats, respiratory inflammation and digestive issues.  Also great  for healing ulcers, UTIs and other inflammatory conditions.
Licorice- Great for bronchial congestion, sore throat, coughs.  Great antiviral  and helps heal inflammation of the respiratory system among many other effects.
Ginger-  Helps the body to "sweat out" a fever.
Elder berries and flowers- Europe's most esteemed formula for colds, flues and upper respiratory infections.  Antiviral, inflammatory and antioxidant rich.  Flowers especially help release heat from the body when you have a bad fever.
Astragalus- Strengthens the deeper immune system and helps rebuild the bone marrow reserve that regenerates the body's protective shield.  It is particularly beneficial for strengthening the spleen and lungs. This is used in treatment of chronic imbalances and regulating metabolism of dietary sugars.  Protects people from getting frequent upper respiratory illness.
Peppermint-  Treats nausea, headaches, easing stomach cramps and clearing the mouth of foul taste.
Red Clover-  One of the best respiratory tonics and used for detoxing.  Used for chronic chest complaints such as coughs, colds, and bronchitis.  This herb is also found in anti cancer and tumor formulas.
Rose Hips- Contains more vitamin C than almost any other herb, and many times that of citrus fruit when measured gram by gram. Vitamin C is an antioxidant with disease fighting capabilities.
Sage- Clears congestion and soothes sore throats, tonsillitis, laryngitis and one of the best herbs for throat and lung issues.
Yarrow- Great for promoting sweating for colds and flus, reducing fevers, stomach cramps and is extremely good at stopping bleeding internal and external as it helps blood to clot.
Cinnamon- Antiviral and antiseptic activities make it useful for fighting infections.
Elecampane- Great for coughs, bronchitis asthma chronic lung ailments and tuberculosis.  It is the best for treating wet, mucus-type bronchial infections.
Lemongrass-
Calendula- Promotes cell repair and acts as a antiseptic keeping infections from occurring in injuries.  Helps with fevers, diarrhea and cramps.
Coltsfoot- Cough dispeller.  Great for coughs, colds and expectorant helping dilate the bronchial tract and expel mucus.
Cayenne- Promotes mucus secretions and when you have a cold or flu it will quickly drain them, lessening the possibly of a secondary infection in the sinuses.  For tea, start with 1/8 or 1/4 tsp.
Holy Basil- Herbalists use this for serious lung problems including bronchitis and pulmonary weakness.  Can also be taken to prevent and treat upper respiratory viruses. This herb helps move stuck mucus out of lungs.
Thyme- Infections, symptoms of colds and flu with fever, sore throat, cough, urinary tract infections, yeast infections, topical fungal infection, congested sinuses, inflammation, whooping cough.
Turmeric- One of the best natural anti-inflammatory herbs.  Great for inflammatory pain, sinusitis and an antioxidant.
Chamomile- Chamomile inhaled and taken internally can help your sinuses.  Also used to release tension during your fever and promote healing sleep and bring comfort. Also great for treating pink eye!
Vitamins

You can find these on Amazon
Vitamin D- 5000-10,000 I.U. a day for adults with illness for a couple weeks and then back down to 5000 a day every day.   Studies show if you are low in vitamin D it will cause more severe colds/flu symptoms.  There have even been studies showing low vitamin D is linked to cancer and even depression!  It is one of the most important vitamins your body needs for illness prevention, healing and optimal health!  Read this crazy article with studies on adults and children regarding vitamin D: https://articles.mercola.com/sites/articles/archive/2017/02/27/vitamin-d-better-than-flu-vaccine.aspx
Vitamin D3 5000 By Nordic Naturals
Designs for health Vitamin D3 + K1 K2 2000IU- Best for younger children, add to their water, no impact on flavor

Vitamin C– Start with 2,000 I.U dose and take 1 plus scoops a day until your stool is soft, and then take that dose every day
C+ Bio Fizz By Designs for health
Multivitamin– Garden of Life " My Kind Organics" is what our family uses. They make them for women, men and children! They make an array of supplements for your needs.
100% Pure Therapeutic Essential Oils
I know there are a few great brands and some I may not know about. The two that I am confident about and are also local to Utah are Young Living essential oils and Doterra Essential oils.  I personally sell and use Young Living.  You can put on topically, which I do daily, or you can use them internally.  A diffuser can be utilized to turn the oil into a fine mist for breathing internally.  The one I use is this one from Amazon. I like it better than most, and I have been through a few of them:  https://www.amazon.com/InnoGear-Essential-Ultrasonic-Aromatherapy-Diffusers/dp/B01D1CJIS8/ref=sr_1_1_sspa?ie=UTF8&qid=1510427315&sr=8-1-spons&keywords=bamboo%2Boil%2Bdiffuser&th=1
*AV- Anti Viral   * AB – Anti Bacterial   *AF – Anti Fungal
Lemon Oil – AB & Alkalizing

Young Living Thieves oil- AV AB AF

Eucalyptus oil- AV AB

Peppermint- AB & great for nausea and headaches
Oregano – AV AB AF
Lavender- AB
Thyme- AV AB AF
Cinnamon- AV AB AF

Clove- AV AB AF
Rosemary- AB AF
Geranium- AV AB
Melissa – AV AB AF
Sage– AV AB AF
Tea Tree– AV AB AF
There are many oils but these are the most common ones. I recommend the below book all about oils and how to use them: https://www.amazon.com/Complete-Essential-Aromatherapy-Revised-Expanded/dp/1577311396/ref=sr_1_1?s=books&ie=UTF8&qid=1510432766&sr=1-1&keywords=valerie+ann+worwood
Extras
Probiotics- Stronger immune system, Improved digestion, Increased energy from production of vitamin B12, Better smelling breath due to a balanced gut, healthier skin, reduced cold and flu, healing from leaky gut and inflammatory bowel disease, weight loss.   You can get probiotics in many ways. The most common sources are through direct supplementation, fermented foods (kimchi, sauerkraut, etc.), Kombucha, Raw Cheese, Apple cider vinegar, etc.
Greens– Great for smoothies!
High Alkaline water-

RECIPES
Fire Cider- Any viral or bacterial illness.  Add whatever you feel necessary, feel free to experiment

1/4 c grated horseradish and/or turmeric
1 quart raw apple cider vinegar
1 onion, chopped
1 large garlic, peeled and chopped
6 hot peppers, chopped or cayenne pepper
1 lemon, sliced
rosehips
Thyme
elderberries
echinacea
Marsh Mallow
1 cup raw organic honey ( for taste)
add all ingredients to a large mason jar, except honey, and let it sit for 3-8 weeks.  After all nutrients have soaked into the liquid, strain the liquids back into bottle, then add honey.  Take 1/2 to 2 tablespoons every 2-3 hour on sign of illness.  You will need a chaser!
Garlic-Mullein Flower oil – Ear infections
2-3 Tablespoons chopped garlic
2-3 tablespoons mullein flowers
2-3 tablespoons st johns wort oil
organic virgin olive oil
Teas- Add what you need from herbs above
Echinacea
Elderberry
Yarrow
Ginger
Peppermint
rosehips
Licorice
4-6 Tablespoons of mix herb per quart
infuse your tea for 30-45 minutes. Roots and bark need up to 45 minutes of simmering in water to extract. Longer the infused tea the stronger it will be.
Can make a large batch and store in a large glass jar in the fridge and reheat when you need. Drink 1/4-1/2 c throughout the day during time of illness
Curry onions & garlic
Saute onion slices, whole cloves of garlic with lots of curry powder in olive, avocado or coconut oil. Clears sinuses and fights the cold or flu.  A great base to start when cooking your game to add some health in the process.
Garlic Honey – *Alchemy of Herbs
1/2 C fresh minced garlic (about 15 cloves)
1/2 C Raw honey
Place garlic in 8 ounce jar and let it sit for 10 minutes. Add Honey and stir.  Let it sit for 24 hours before using and place in fridge. Will last for what seems like forever in the fridge.  Take 1 tsp every 1-2 hours
Elderberry Syrup– One of many syrups you can make – *Rosemary Gladstar
2 quarts fresh rip elderberries
1/4 oz freshly grated gingerroot
1/2 ground cloves
honey
combine elderberries with 1/4 C water and large pot and simmer until soft. Strain out pulp reserving the liquid. Add the ginger and cloves and simmer uncovered until the liquid reduces to about half. pour juice into a measuring cup and note its volume and then return to pot.  Add the same amount of raw honey and stir.  Let cool and then bottle.  Store in refrigerator and use within 12 weeks.  Take 1-2 TBL several times throughout the day .
Echinacea Tincture– Whole plant
Leaves, buds, flowers, roots
Fresh is best! but you can buy the dry herb. Add to large mason jar. Add at least 80 proof Brandy, Vodka, or gin and cover over 3 inches. Everything will absorb and you may need to add more. set in a warm dark place and shake every now and then and let it sit for at least 4 weeks, up to many to years!  I usually use the top after some time sitting until it reaches the herbs and then you want to strain it completely and put in glass dropper bottles.  1/2 tsp every hour.
Save
Save
Save
Save
Save
Save
Save
Save
Save
Save
Save
Save
Save
Save
Save
Save
Save
Save
Save
Save
Save
Save
Save
Save
Save
Save
Save
Save
Save
Save
Save